Paragon Housing
Paragon Community Housing Basic Online Skills training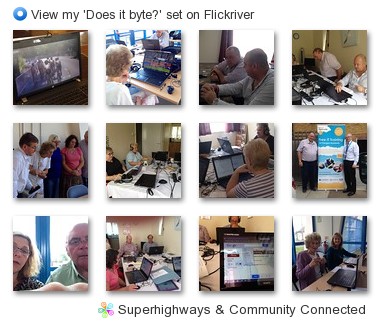 Community Connected has been working in partnership with Paragon Community Housing Project to deliver online basics skills to Paragon's residents as part of a drive to help people get online from May - September 2014.
Over the course of the project we ran 23 two and a half hour training sessions at Thamesview, The Cromwell Centre and Rodney Close in Walton upon Thames and Fulmer Close, in Hampton, Richmond.
Setting up the IT systems
We worked closely with David Hollingsworth, Paragon's recently appointed Digital Inclusion Manager, on identifying what equipment would be needed to run the training . A decision was reached to purchase 4 Sony Vaio laptops with touch screens and 4 HP laptops, both with 19inch screens. The idea was to see whether the laptops with a touch screen would be easeir to use for older learners, who might not have the mouse skills and we could fast track them to using the internet without that initial stumbling block.
As it turned out the majority of our learners, never used either the touch screen or the mouse - preferring to use the laptop's touch pad.
However those of us teaching, found it much easier to use the touch screen - which made it very easy to demonstrate information - getting round the need to snatch the mouse away from a learner.
Software
The laptops all came with Windows 8 - which was a shock to many who had not seen or deliberately avoided trying out Windows 8. But when you are training in online basic skills - once you have shown learners how to get to the web browser - there were few issues that cannot be easily overcome. One of our volunteers also put together a Guide to using Windows 8.1 for new users.
About our learners
We had 16 learners in total sign up to training across all the different venues - with a number of learners attending more than one - particularly towards the end of the project, when they realised that this might be their last chance.
The majority of our learners were of working age: 25% were actively seeking work.
What we taught our learners
We always start by asking our learners what they want to learn. The most popular items were learning to email, use skype, Facebook and finding about paying bills online.
We registered learners with a LearnMyWay account which enables learners to train at their own pace. We then supplemented this with themed sessions addressing specific interests.
Vanessa recorded her thoughts after her first session using Learnmyway. Her main reason for coming to the training was to boost her IT skills, to help her find work. On the first day she had enough training to enable her to write a new CV. She was delighted - and also successful. She got her job she was applying for. Well done, Vanessa!
" I found this course most helpful" - Graham
Our learners came to us with varied levels of experience - some were complete beginners - others needed specific training in one or two things - like email. Others had very good skills in the basics and wanted to learn how to shop online and sell items via eBay or how to save their photos from their phone onto a computer.
Hear what David M. has to say about what he wanted to learn and what he hopes to use his skills for.
What next?
"Dear David and Phillipa, Unfortunately I couldn't bring my mum to the last session today as she has been unwell, she so wanted to be there and is quite disappointed, she sends her best wishes to Phillipa who was so very helpful and really hopes that there is a chance that you will be able to continue these classes sometime in the future, or if you happen to hear of anything else similar that is being run. Thank you once again"